1
« on: January 15, 2019, 04:43:04 PM »
1. Front Mission 4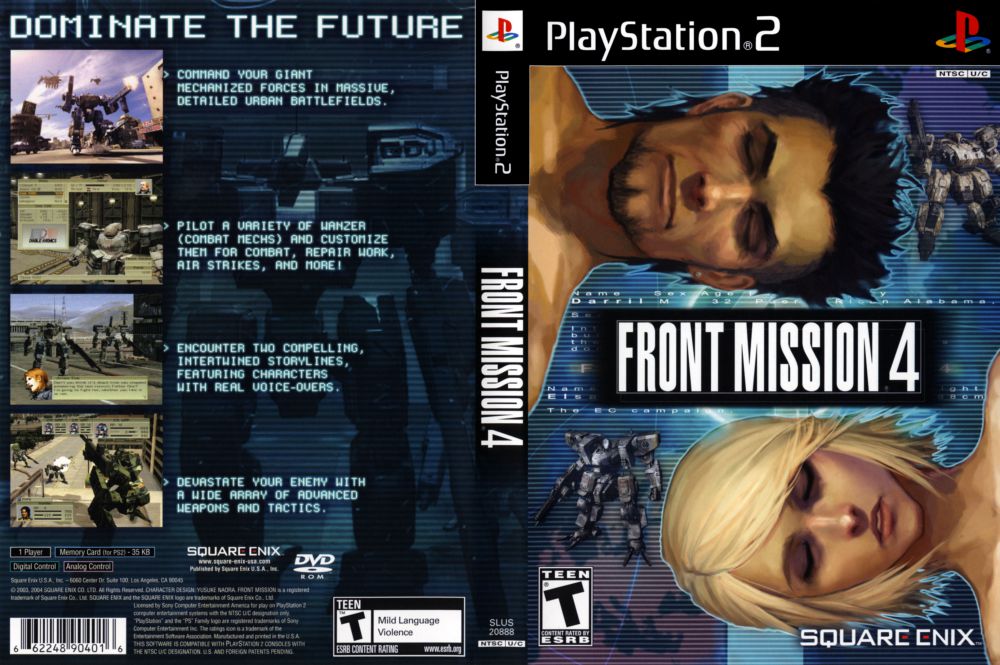 I'm back at it, I honestly don't know if I'm going to go nuts like last year, but I think being off my pc in general kinda focuses playing games in my free time over...fucking around on an internet browser on my pc. Both unproductive, but at least with one I can beat games over...doing absolutely nothing. These posts are probably more for me than anything, because I don't have a blog (which I should probably do that, so I'm not spamming) I like looking back at the year to see what I got done.
Game itself, I purchased shortly after release in 2004, I know I got it before world of warcraft came out, and it's been one of those off and on games I'd get 1/3 through, quit, start over a few years later, 1/3 through, ect. I have a few of these games, last year earthbound was one of those games, and the year before that mario rpg was another. It feels REALLY good to get those types of games off the backlog. There's a finite amount of them, and it's only a matter of thinking back to remember which games I have left.
It's ok, really slow pace is primary reason I never finished it, as is the difficulty of the game if you don't have a grasp of the mechanics. Not super hard if you do have a grasp of the systems, but pretty hard if you don't. Armored core, with a turn based rpg battle system, it's neat. Think disgaea with customizable mechs, less ally units on the field, BIGGER LONGER MAPS, no magic, slower gameplay, and leveling doesn't really do anything other than make ep grinding (think skill points to improve your characters) harder. Ohh and it's the only game I know of with a split story line, probably the most unique feature of this game. You play two casts of characters, one in Europe, one in Venezuela, seperate mech equipment, seperate characters, seperate storylines (which connect late), seperate money, and the game alternates between the two. You'll do a few missions in europe, then go to south america for a few, then back to europe, and it alternates throughout the entire game, and absolutely no gear/levels/money carry over between the two at all. Venezuela will give you more side units to play with on certain missions, and europe has access to radio air strikes and supply drops, so each side will play a little different. It's different, not bad, not good, but unique.
ACTUALLY FINISHED IT THIS TIME, OFF THE LIST, NEXT GAME.